January 4, 2010
Tripawds is a user-supported community. Thank you for your support!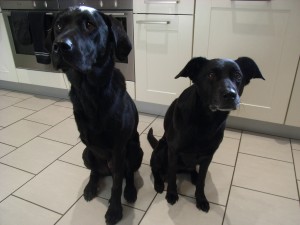 Hope you all had a happy holiday season! Father Christmas brought Merlin a ball shaped liked a Christmas pudding and lots of yummy biscuits and we've been on lots of walks in the snow (although it's more like ice now).
Over the past week we've noticed Merlin's breathing has become more laboured, he's breathing very fast even at rest and at the beginning of walks he sometimes coughs. He has also started squealing whenever we lift him out the car, we've tried every which way, with harness and without but nothing is making any difference. Despite all this he still wants to eat (I don't think he ever feels full!), go for walks and play with his ball…his tail is always wagging in a frenzy!!
We took him to the hospital today for the routine xray to see how his lungs were looking. Apparently he now has fluid within both lungs (whereas 4 weeks ago it was only one) and fluid is also collecting in the cavity outside the lungs meaning his lungs have become much smaller and can't expand to fill his chest cavity. The vet said this probably explains his breathing problems. He also has a new mass pressing on his trachea which may be making him cough. The vet said there's no point giving him any more chemotherapy and suggested draining the fluid that's collected outside of his lungs. Depending on how quickly it reforms it may give Merlin some relief and make his breathing easier, we'll just have to see.
We didn't know whether to have it drained or not, we don't want Merlin to be messed around any more than he has been already, especially because its not going to make any difference to the long term outcome.  However, if anything can make his breathing easier then it seems worth a try. He's going back again tomorrow morning to have it done. We're all keeping our fingers crossed it helps him.
Anyway hopefully better news soon. Wishing all you other tripawds a Happy New Year.