December 9, 2009
Tripawds is a user-supported community. Thank you for your support!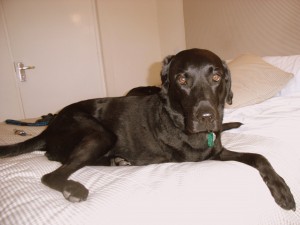 Hi all,
Today is Merlin's sixth and final chemo, he's having a chest xray too which we're all a bit nervous about. The last one, at his 3rd chemo, showed a white nodule but they put it down to overlying vessels. We've just got to keep our fingers crossed that it hasn't grown and that nothing else is visible.
To you other tripawds who have had chemo, is it the norm to have six sessions and then stop? We've been told he'll have  xrays every so often but no more chemo.
In other news, Merlin's very much looking forward to Christmas, this year he got his very own advent calender (made specifically for dogs, don't worry) with paw shaped doggy treats each day…yum!
He's also going to be famous (well within the doggy world)! We sometimes buy a dog magazine and one of the features they have is about a member of the public's  'Star Dog', so we entered a piece  about Merlin and they accepted him, so he'll be appearing in April's issue!