November 6, 2009
Tripawds is a user-supported community. Thank you for your support!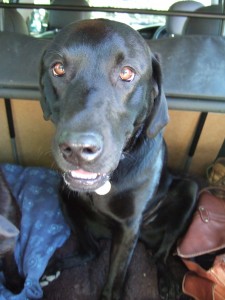 Sorry it's been such a long time since we posted .
Merlin is doing well. He's had his 4th chemo session this week and as always he had no reaction to it,which is good. During his 3rd session he had to have a chest x-ray, we were nervous about what it would show. There was a 'nodule' but after numerous experts looking at the x-ray at the vet hospital they said they thought it was maybe just a few vessels lying on top of each other that had produced this white shadow.
We have been having a few problems since the amputation with Merlin yelping very suddenly and sometimes jumping up from lying down. It was happening a few times everyday, lasting from a second to sometimes 10 seconds. It was horrible to hear. The vets weren't really sure what it was but wondered if it was phantom limb syndrome. We were wondering if anyone else out there has experienced the same thing with their tripawd? Merlin was put on Gabapentin to try and help and it has decreased in frequency, but we don't know if this is the drug or just the healing process.
It's much better now, only happening about 2-3 times a week so the Gabapentin is slowly being reduced.