September 5, 2009
Tripawds is a user-supported community. Thank you for your support!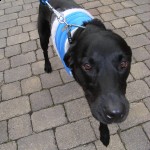 One day about 3 weeks ago I was taken again to the animal hospital, I was a bit worried when my pawrents left me alone in the care of this big man called Tim but before I knew it I'd gone off to sleep. When I woke up things were not the same, I felt very groggy and couldn't quite put my paw on what was wrong. Over the next few days I learnt to stand and walk on three legs instead of four and cope with a funny bandage which was wrapped around my chest. I stayed in hospital 3 nights and was so pleased to see my pawrents when they came to collect me to take me home, that I jumped up onto their shoulders! Once I'd been home a few days things settled down and I began to enjoy very short walks up the lane. The stitches were removed 2 weeks after my operation and I also had my first chemo session, they were worried it might make me go off my food (which is very unusual for me!!) but I was ok. In order to keep me lean, Mum hasn't been feeding me as much because I haven't been getting as much exercise, I'm not very impressed with this plan.
I'm going on proper walks again now with my sister Holly, I even went up to my armpits in the water!! The best thing is being able to play with my ball again, I can't tell you how much better this makes me feel! It's my 3rd birthday next week and I cannot wait for the suprises in store, life's beginning to look good again!